Lishman's Yorkshire Charcuterie
Yorkshire Charcuterie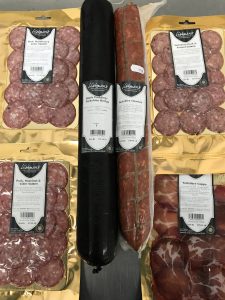 We are delighted to announce that we are now working with Lishmans Butchers in Ilkley West Yorkshire. Lishmans is a multi award winning butchers sourcing all of the meat from Yorkshire to create these stunning charcuterie products. David Lishman grew up on a farm where his family kept pigs and he learnt the recipe and method from his father and now we are able to bring these fabulous products to your kitchen and customers.
Within the range that we are now currently stocking we have.
These products are truly excellent and you will not be disappointed. If you would like to sample any of the products please don't hesitate to get in touch wither either telesales or your account manager to arrange for samples to be delivered.